Founded by Justin Sun in 2017, Tron is a decentralised open-source operating system powered by Tronix, its cryptocurrency.
Tron was created especially for content creators to sell their content in a decentralised environment, which is a decisive step towards decentralising the web.
Since its introduction, Tron has shown huge potential as a highly rewarding investment and a blockchain service. It aims to host a decentralised global entertainment system for cost-effective content sharing. It is one of the largest cryptocurrencies by market cap.
Despite cryptocurrency's popularity and massive adoption, many people still find it hard to trade or purchase cryptocurrency successfully. This article will clear the questions and confusion about how to buy Tron (TRX) in the UK.
How to Buy Tron in the UK Using Our Preferred Trading Platform: eToro
1. Sign up with eToro
Before deciding to buy Tron on eToro, you need to create an account by visiting www.etoro.com. Create a new account by clicking JOIN NOW on the home page.
Fill up the registration form that pops up. Ensure you verify your email before proceeding to the KYC verification.
2. Account Verification
Complete your profile information and get your National Insurance Number for the KYC verification. Verify your identity with valid ID proof, which can be your passport or driver's licence.
Also, verify your address with valid proof of address like a bank/credit card statement or internet bill.
3. Deposit fiat currency
Once your account has been verified, fund your account to purchase Tron. Choose your preferred deposit method from the available options, connect your bank or e-wallet and complete the deposit to make a fiat deposit.
4. Navigate to Tron and make a purchase
Funds deposited will be made available after completion. Proceed to the CRYPTO section and look for Tron. Input the amount of Tron you'd like to buy and confirm buy.
5. Tron is added to your eToro portfolio
Once your transaction has been completed, the equivalent value of Tron will reflect in your portfolio. Navigate to the PORTFOLIO section to check your investment.
Best Ways to Buy Tron in the UK
1. eToro
eToro is the best platform for traders looking to buy or invest in Tron.
As a world-class exchange, eToro supports various transaction types and several crypto listings, which makes it an exceptional option for beginners and experienced traders. It is also suitable for different strategies.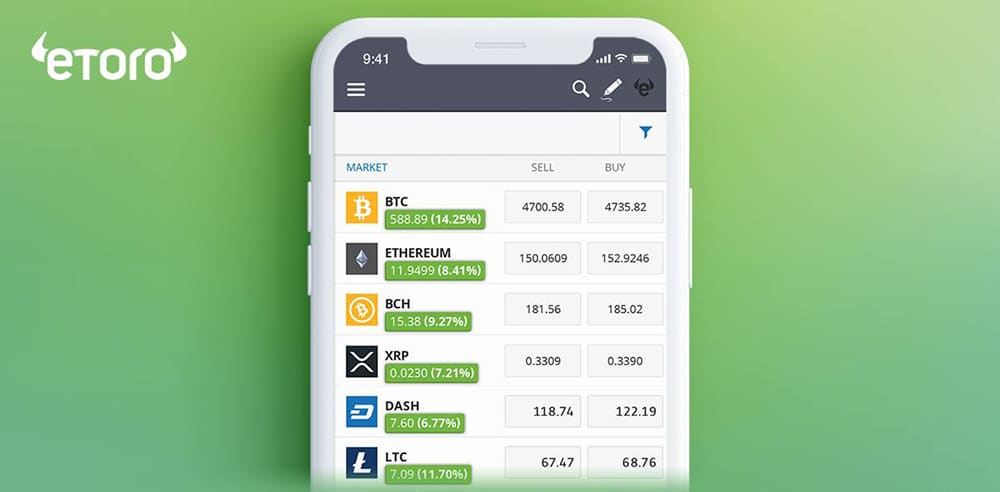 Pros
Cons
Straightforward account registration
Fiat deposit is limited to USD only
Large crypto listings of 42 cryptocurrencies
Does not offer non-crypto investments to US traders
Social trading and copy trading function
High withdrawal and non-trading fees
Low deposit and withdrawal threshold
Offers access to non-crypto investments like ETF, commodities,
stock, and forex trading
Additionally, eToro offers a lot of features, such as copy trading. This enables new traders to copy the trades of existing experienced traders to grow their portfolios and make profitable trading decisions.
Also, eToro is a commission-free exchange, although it charges a slightly higher withdrawal fee of $5, which can be excessive for small-scale traders. However, this might not be an issue for large-volume investors.
eToro also provides a built-in wallet that enables users to store their crypto investments safely on their platform. On top of this, there is provision for easy portfolio management, especially for crypto and non-crypto investments.
2. Binance
Binance is the largest crypto exchange globally, a better alternative for buying or investing in Tron.
It is also a great option for traders looking to buy and withdraw Tron via the Tron network as Binance offers the lowest trading and transaction fee. This makes Binance the best option for Tron withdrawals as it is cost-effective.
Pros
Cons
Swift and free account funding
Although the trading commission is cheap, other exchange
platforms do not include these fees
Extremely wide range of coin listings, the largest in the
crypto market
Complicated UI mainly designed for experienced users
A wide range of supported transaction types
Binance offers a wide range of crypto listings, more than 350. It also supports many transaction types, making it the perfect platform for executing advanced trade or different strategies.
However, Binance has a complicated user interface, making it less preferable to buy Tron. This also makes Binance less suitable for beginners as it can even be difficult for experienced users to navigate.
This complicated user interface can also make it overwhelming to execute profitable trades.
Therefore, if a less experienced or new trader wants to use Binance to buy Tron, it might contribute to a bad trading experience and even affect their interest in crypto trading.
3. Kraken
Kraken is a perfect blend of the benefits of eToro and Binance. It offers competitive trading and transaction fees and a wider range of cryptocurrency listings.
Also, Kraken is a great option for experienced traders as it offers many transaction types and trading strategies. This is particularly helpful to enhance profitability, especially for new investors.
| Pros | Cons |
| --- | --- |
| Excellent for all traders of different experience level | Complicated fee structure. However, the fee decreases as trading volume increases |
| Good numbers of coin listings | The absence of a built-in wallet can be an issue for beginner traders |
| Low transaction and trading fee | |
As mentioned earlier, Kraken offers low fees, which is competitive compared to other platforms.
It also offers a low withdrawal fee which is beneficial for traders looking to buy Tron and use the Tron network. Typically, a higher withdrawal fee can incur an additional trading cost.
It is important to note that although Kraken is an excellent option for investors looking to buy/sell Tron or invest for potential profits, eToro and Binance are better options for the specific advantages that Kraken does not offer.
What Is Tron?
Tron is a decentralised global entertainment digital platform that seeks to revolutionise the web via affordable and cost-effective content sharing. It was initially introduced as an Ethereum ERC-20 token before switching to its protocol later.
Founded in Singapore by BitTorrent CEO Justin Sun, Tron shares similarities with Ethereum as it uses blockchain and P2P networks, eliminating centralisation between content creators and their consumers.
Why Buy Tron?
Tron is another great Fintech solution capable of processing more than 2000 transactions in a second.
Currently, it is as good as e-payment services like PayPal and charges zero fees for transactions. Tron is a good investment due to its revolutionalising importance in the financial world.
Tron platform is also a good investment due to its importance to content creators and users looking to use the platform or invest in its growth. Although its price may not grow soon, it can make a good investment in the future.
Tron Price Analysis and Prediction
Before its launch, Tron was priced at £0.0013 during its ICO (Initial Coin Offering). It has grown tremendously to £0.056 now, about a 4300% price increase.
Tron attained its ATH, peaking at £0.17 shortly after its launch in January 2018. However, its price crashed barely a month later to £0.02 per coin. Tron experienced a huge bullish ride in April 2021, peaking at £0.11 per coin, then slipped back when the general crypto market became bearish.
Expert analysts believe that Tron is recovering from the bearish fall and gaining enough momentum to drive its price higher to £0.12 before the end of 2021.
Also, they predicted that if it continues the momentum, it can hit £0.28/£0.29 to set a new ATH within 8-9 months. 
Tron's long-term outlook is a bit imprecise, although analysts believe it is mostly bullish. Analysts speculate that the price could drive as high as £0.54- £0.58 within 5 years.
However, this bullish outlook generally depends on massive adoption of the platform's, high quality and desirable content sales. 
Things to Remember Before Buying Tron
Don't put in more than you can afford to lose – Crypto trading is highly risky as its price action is unpredictable. It is vital to have sound risk management and trading plan. Also, cut your coat according to your size and trade only the amount you are willing to let go.
Resist 'fear of missing out' – Trading on emotions is as dangerous as trading blindly. Fear of missing out on potentially high rewarding trade, price movement or media frenzy can cost you all your investments. Be disciplined and follow your trading strategy without letting emotion get in your way.
Understand Tax Consequences – Like any other property, crypto-assets attract tax. Ensure you know the tax liabilities of holding a crypto asset and be tax compliant, always.
Long vs. Short Term Investment – The choice of long or short-term investment is another common issue, especially for beginners. To know what will work out best for you, consider the advantages and limitations of both of them.
Once you've chosen the one you like, consider choosing an exchange that perfectly suits your choice for long or short-term positions.
FAQs
Is Tron Legal in the UK?
Yes, buying Tron and other cryptocurrencies is considered as owning property and therefore legal in the UK.
Will Tron become the most valuable cryptocurrency?
Price action for cryptocurrencies and even other financial investments is unpredictable. Also, anything can happen with cryptocurrency, although it is implausible to see Tron become the most valuable cryptocurrency.
Can you buy less than 1 Tron?
Yes, you can buy less than 1 Tron with fractional trading.
Is it too late to buy Tron?
Cryptocurrency has an unpredictable price action. It may not be too late to buy Tron as many cryptocurrencies, including Tron, are in a dip and may recover soon. Also, with Tron's many functions and use cases, its adoption can hasten its recovery and make a good investment.