Stellar is a digital currency payment network that is powered by its token Lumens (XLM). The payment network was created in 2014 by Ripple's founder, Jeb McCaleb, but unlike Ripple, Stellar focuses on payments between individuals rather than institutions. This payment network supports fiat to cryptocurrency transactions as well as cross-border payments.
Currently, the Lumens token has a value of just over £0.15 per coin with a market cap of just under £36bn, making it the 14th largest cryptocurrency currently being traded.
There are countless ways to buy different cryptocurrencies, but even today there is still a lot of confusion and many questions surrounding how to buy Stellar Lumens in the UK.
Today, we're going to clear up that confusion.
How to Buy Stellar Lumens in the UK Using Our Preferred Trading Platform: eToro
1. Sign up with eToro
You need to create an account with eToro. You do this by going to their site, www.etoro.com, and selecting the join now button and the below form will appear, complete it and it will take you to the next page.
2. Account Verification
Verify your account. When prompted, complete your profile, and keep your National Insurance number nearby to get everything verified. You'll need to upload a valid proof of identity (e.g. passport or driver's license) and proof of address (e.g. bank/credit card statement, internet bill).
3. Deposit fiat currency
Connect your bank or e-wallet, deposit funds to fund your account using the following options pictured below. You must have fiat currency in your eToro account to buy XLM.
4. Navigate to Stellar Lumens and make a purchase
Once your funds are available in your account, you'll be ready to buy Stellar Lumens! Simply navigate to the Stellar Lumens page and make your first purchase.
5. Stellar Lumens is now added to your eToro portfolio
Best Ways to Buy Stellar Lumens in the UK
1. eToro
The best platform for buying Stellar Lumens in the UK is eToro. eToro is a great platform as it has low fees and doesn't charge commissions. It supports both strategies of buying XML for use in powering the Stellar Lumens network as well as trading it for profit at a low cost compared to other platforms.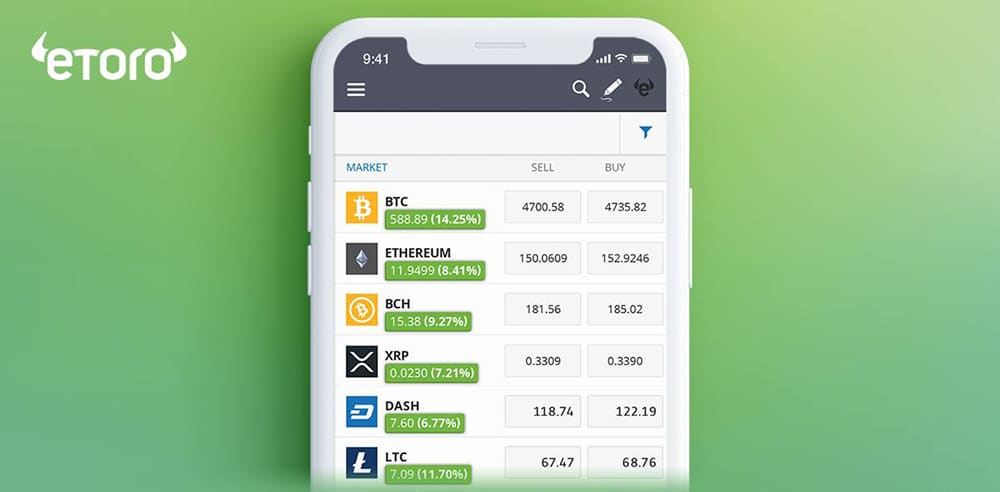 | | | |
| --- | --- | --- |
| Fees | Cryptocurrencies Supported | Transaction Type |
| $5 for withdrawals (even for UK investors), 0% on trades, although spread costs apply, eToro also only operate in USD so you will also face spread costs for any other currencies | 18 cryptocurrencies supported | Buy, sell, market orders and limit orders |
eToro also makes a great option due to its zero commission on trades. This is great for those who want to pursue a strategy of benefitting from XMLs growth as opposed to its utility. This allows traders to execute trades whenever they need without incurring additional costs. Added to this, eToro also offers free services to help investors mimic the best traders on their platform to help further their potential gains using the Copy Trading feature.

Another great benefit of eToro is they have a fixed charge for withdrawals. Whilst traders operating on smaller amounts may see this as expensive, once traders clear a certain threshold this fee can become very cheap compared to other providers as it's a fixed cost. This is really beneficial for traders who want to withdraw their coins to utilize for the utility they bring.
eToro offers not just cryptocurrencies, but fiat as well as traditional investments like stocks, bonds, ETFs and commodities, making it a complete option for those that want to invest in multiple markets. It also offers a built-in wallet, high security and an easy user interface with simple functionality, making it great for beginners and seasoned investors.
2. Binance
Binance is another brilliant option due to its large number of cryptocurrencies supported. Binance is the world's largest cryptocurrency exchange and supports over 150 different pairs for Stellar Lumens, making it easy for traders who wish to invest for returns due to the high amount of liquidity available.
| | | |
| --- | --- | --- |
| Fees | Cryptocurrencies Supported | Transaction Type |
| 0.02%- 0.1% purchase and trading, 3% to 4.5% for debit card purchases, free single EuroPayment Area transfer, or $15 per wire transfer in the US, Free UK bank transfers | Over 500 for global investors | Limit order, market order, stop-limit order, trailing stop order, post-only order, peer-to-peer trading, margin trading, one-cancels-the-other order. |
As Binance has incredibly low withdrawal fees, it makes it an excellent option for those investors who want to withdraw their currency to use. Other platforms typically charge for withdrawing funds, which normally isn't an issue for traders who plan on buying other cryptocurrencies rather than withdrawing, but if they planned on using XML to power the Stellar Lumens network then this does become an issue.
Binance is also a good platform for trading Stellar Lumens for the same reason it's great for trading cryptocurrencies, such as lower fees, loads of currencies supported and complex transaction types to support more complex strategies. 
3. Coinbase
Coinbase is the third option to consider when looking to buy Stellar Lumens in the UK. Coinbase is the largest US-based cryptocurrency exchange which offers a great number of features and currencies as well as being more security-focused than other providers.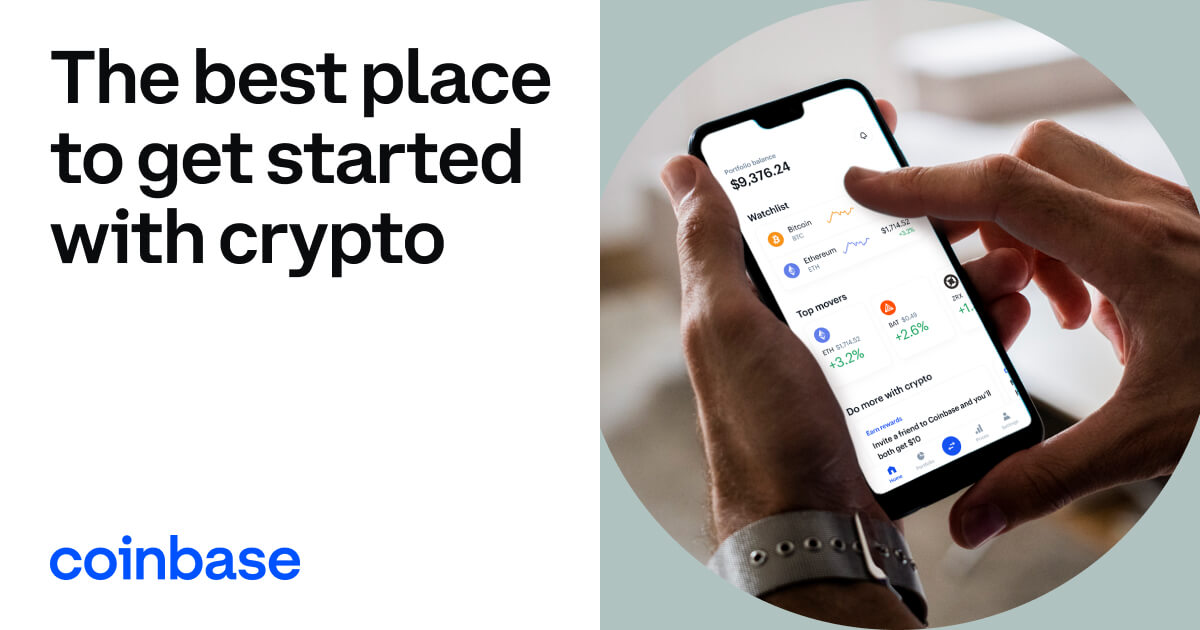 | | | |
| --- | --- | --- |
| Fees | Currencies Supported | Transaction Type |
| 3.99% for instant buys, free faster payments, 2% plus £0.55 for instant withdrawals. Spread of around 0.5% for all trades plus a variable fee between £0.99-£2.99 | 50+ supported | Buy, sell, send, receive, and exchange |
As a US-based institution, Coinbase makes another solid option as it is likely to keep in line with regulators and more likely to stay online. With some platforms falling foul of local regulators and having restrictions imposed, not staying in line with local regulation can be painful for customers.
Coinbase offers it's users a higher level of security compared to other platforms. This security is great for beginner investors who want to store their currency on the wallet provided by the platform, reducing the time and effort required to getting into trading Stellar Lumens.
Coinbase also offers a pro option that offers lower fees, more transaction types, unlimited trading amounts, 1 extra cryptocurrency, as well as better charting features. Coinbase pro may be a good option for more advanced traders looking to get more out of their platform.
What Is Stellar Lumens?
Stellar Lumens (XLM) was created for a very similar reason to Ripple, to make payments of all kinds easier, quicker and cheaper. Unlike Ripple, Stellar Lumens is aimed more at individuals than institutions and especially those in emerging markets. This means the technology makes it both a FinTech, similar to Venmo or PayPal as well as a traditional cryptocurrency platform showing the real power crypto technology can bring in helping advance the wider FinTech cause.
Lumens are the token that powers the platform.
Why Buy Stellar Lumens?
Stellar Lumens is a great investment as not only does the platform bring a lot of potential and power, but also as an investment tool. The payment network it powers has a lot of potential and has already begun delivering on that potential to reform the way people transfer money, which could have huge implications on the way people engage with their finances globally.
The promise (and they're delivering on this promise) Stellar Lumens can bring to help power Financial Technology applications in emerging markets at low cost is also huge. With more and more mobile applications being built on cryptocurrency technologies and emerging markets being some of the best places for these applications to thrive, XLM is perfectly positioned to benefit from this growth and deliver results to those markets.
Also, by buying XLM, users who plan to use the Stellar Lumens network would benefit from being able to use it at a lower cost than those who don't.
Stellar Lumens Price Analysis and Prediction
With a current price of £0.15 per coin, XLM is currently in a bit of a dip, although this looks to be more related to the wider cryptocurrency market dip. This market sentiment signals the belief that XLM is likely to recover as the wider cryptocurrency markets recover.
Despite the dip, Stellar Lumens is currently rallying with analysts believing it could reach a high of £0.39 per coin, nearly doubling its current value. This rallying, in line with the bigger cryptocurrencies (note, not all cryptocurrencies are in recovery at the time of writing), signals the markets support for XLM in the same way cryptocurrency investors support bigger coins like Bitcoin or Ethereum.
This further demonstrates it's potential as an investment, despite its smaller market cap.
Further to this many analysts believe XLM could reach highs of between £1.08 to £1.43 per coin over the next 5 years, which would be huge growth compared to its current price point. Whilst there are skeptics, sometimes driven by fanatical support for one coin or another, there is still a chance it might not recover as expected.
Things to Remember Before Buying Stellar Lumens
Don't put in more than you can afford to lose – remember, Stellar Lumens like all cryptocurrencies are speculative and you may lose more than you gain, make sure you only trade amounts you'd be willing to lose.
Resist 'fear of missing out' – avoid trading on emotions, FOMO is the Achilles heel of many traders who jump in when it's too high and don't stay the course, meaning they end up losing money as they invested on an emotional level without thinking things through.
Understand tax consequences – make sure you stay on the right side of your taxes, and cryptocurrencies, like everything else in life are subject to taxes. Make sure you know your tax liabilities and comply with them
Long vs short-term investment – consider the benefits and drawbacks when looking at trading any cryptocurrency as a long versus short-term investment. It's also worth looking at whether your chosen platform or exchange is better suited to longer versus shorter-term positions.
FAQs
Is Stellar Lumens legal in the UK?
Yes, buying Stellar Lumens is perfectly legal in the UK.
Will Stellar Lumens become the most valuable cryptocurrency?
Anything is possible, especially with cryptocurrency. That being said, it is unlikely that Stellar Lumens will become the most valuable cryptocurrency. 
Can you buy less than 1 Stellar Lumens?
Yes, fractional trading is available with Stellar Lumens meaning you don't have to buy 1 coin.
Is it too late to buy Stellar Lumens?
We wouldn't say it's too late to buy Stellar Lumens as prices are currently in a dip and could recover. Given Stellar's use cases and new functions, it may not be too late, but it's still a little too speculative