Are you thinking about buying IOTA? In this comprehensive guide, you will find all the information that will help you make the final decision.
IOTA is a quite popular crypto project, and it facilitates transactions with the IoT (Internet of things) ecosystem. In essence, IOTA is a distributed ledger that records and executes transactions between machines and IoT devices.
The native coin of IOTA is known as MIOTA. In the first months of 2021, the price of MIOTA went on an almost 1,000% bull run.
So, will IOTA go up again in 2022? We will try to help you determine whether MIOTA is a good investment for you later on.
But first, let us take you through the essential steps of where and how to buy IOTA in the UK.
How to Buy IOTA UK – Quick Guide
If you're new to crypto, or you're simply searching for a quick and easy way to buy IOTA, you should head to eToro. This FCA-regulated broker will allow you to buy IOTA within minutes.
Step 1: Open an account with eToro
Opening an account with eToro is a simple and straightforward process that only requires you to provide some contact and personal details. You'll also need to get verified by uploading a couple of documents.
Step 2: Deposit Funds
eToro has a $10 (approximately £7) minimum deposit in the US and UK. You can deposit funds using credit/debit cards, bank transfers, PayPal, Neteller, Skrill and so on.
Step 3: Search for IOTA
To find IOTA, type 'IOTA' or the ticker symbol MIOTA in a search bar. After the IOTA page appears, click 'Trade'.
Step 4: Buy IOTA
Determine what amount of money you want to spend and click 'Open Trade' to invest in IOTA.
And that's it! If you're looking for a more thorough guide on how to buy IOTA UK, we will provide a more detailed walkthrough further down.
But if you're wondering where to buy IOTA, let's take a look at the best platforms to do so first.
Where to Buy IOTA UK?
IOTA has been popular since the 2017 crypto bull run, and consequently, many of the best crypto exchanges in the UK have it listed.
Some of these best places to buy IOTA safely and with low fees are reviewed below:
1. eToro – Overall Best Place to Buy IOTA UK
In our opinion, eToro is the best place to buy IOTA in the UK, both for beginners and experienced traders.
In short, eToro is a social trading platform and a well-regulated online broker launched in 2007. Generally, eToro allows investors to interact and learn from each other. It listed IOTA in August 2021.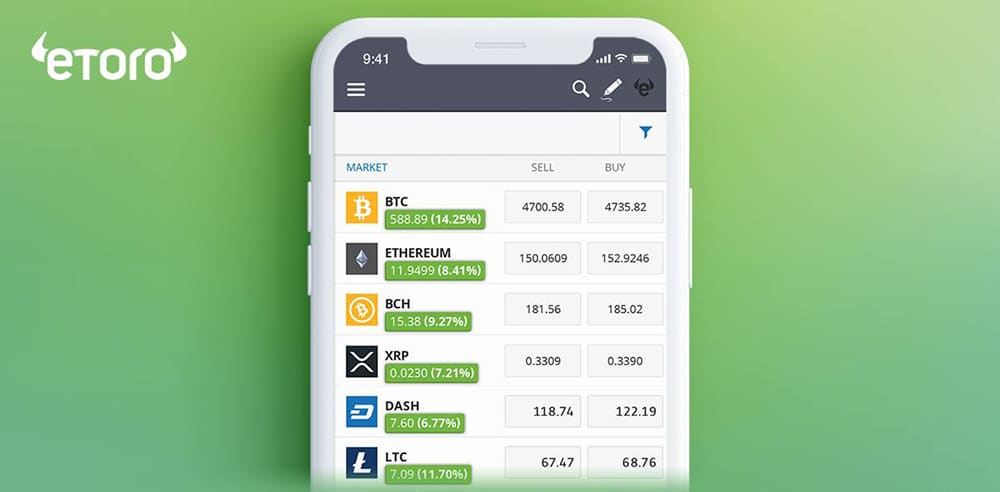 Pros
Cons
Straightforward account registration
Fiat deposit is limited to USD only
Large crypto listings of 42 cryptocurrencies
Does not offer non-crypto investments to US traders
Social trading and copy trading function
High withdrawal and non-trading fees
Low deposit and withdrawal threshold
Offers access to non-crypto investments like ETF, commodities,
stock, and forex trading
eToro offers more than 60 digital assets. Plus, it works on a spread-only basis. So, eToro doesn't ask for standard commissions when you buy cryptocurrency. In fact, you will be charged a commission of 1% for buying and selling.
Furthermore, eToro is famous for its beginner-friendly UI and educational features such as the eToro Academy. If you're a newcomer, eToro will provide you with guides and blogs with all the information you need to know about digital assets and investments.
In addition, eToro offers a handy CopyTrader tool allowing users to mirror the trading strategy of more experienced traders. This is great for those looking for passive investment, or beginners wanting to learn from top traders.
But one of the best things about eToro is that it's well-regulated and that offers only verified projects. It's regulated by the FCA in the UK, CySEC and ASIC, and it works within the norms of government regulations. Therefore, it's a great choice for investors searching for a safe place to keep their funds without fear of hacks or scams.
Last but not least, eToro also supports crypto staking, currently on ETH, ADA and TRX. More staking coins may be added over time though, as eToro constantly adds new assets. For example, it recently added ApeCoin and ENS.
2. Binance – Largest Exchange to Buy IOTA UK
Another good option is Binance. It's the largest crypto trading platform in the world – it has 90m+ users and almost $24bn of crypto traded every day.
Pros
Cons
Swift and free account funding
Although the trading commission is cheap, other exchange
platforms do not include these fees
Extremely wide range of coin listings, the largest in the
crypto market
Complicated UI mainly designed for experienced users
A wide range of supported transaction types
Binance listed IOTA in September 2017. Besides IOTA, it offers more than 600 altcoins. But one of the reasons why Binance became so popular is, of course, low fees. Binance's trading fees are only 0.1% and even less if you use the Binance Coin (BNB), making it the cheapest way to buy IOTA.
However, the initial deposit can be pricier. If you buy IOTA with a debit or credit card, a 3.5% fee applies. And ACH deposits are free of charge.
Another thing that distinguishes it from other exchanges is the withdrawal fee. The fee is different for different cryptocurrencies, so the fee for withdrawing IOTA is 0.5 IOTA.
Lastly, Binance provides a secure Trust Wallet for storing IOTA tokens. Also, if you start to actively day trade and want to use leverage, Binance will meet your needs with its perpetual futures pairs for margin trading.
3. Huobi – Reputable Exchange to Buy MIOTA UK
Another trusted platform that offers IOTA is Huobi. Founded in 2013, Huobi listed IOTA in May 2018.
Huobi has a wide selection of cryptocurrencies, including the largest crypto assets like Bitcoin and Ethereum, as well as DeFI coins such as Aave.
Moreover, Huobi is considered one of the most liquid crypto trading platforms globally. It provides deep liquidity for ETH/USDT and BTC/USDT trading pairs.
After being founded in 2013 in Beijing, Huobi became China's leading crypto exchange very quickly. Eventually, expanded into Asian markets and moved its headquarters to Singapore.
Nevertheless, Huobi managed to create a lively crypto-asset ecosystem that includes the Huobi Eco Chain, Huobi's Blockchain and the Huobi Token HT.
Also, the platform charges a 0.2% base fee, but if you buy HT (Huobi native token), you'll get discounted trading fees. The more HT you buy, the more discount you'll get.
Finally, Huobi stores clients' funds in multi-signature cold wallets and has set up a 20,000 BTC security reserve. This ensures strong security as well as the possibility to compensate in case an issue occurs.
What Is IOTA?
Now let's take a closer look at what IOTA actually is.
As we mentioned in the beginning, IOTA is a distributed ledger that records microtransactions between machines and IoT devices. Although its native token is actually called MIOTA, a lot of people refer to it as IOTA.
It's also good to know that IOTA runs on Tangle. In a way, Tangle is an enhanced version of Blockchain, offering almost 100% free transactions, at scale.
That enabled the IOTA project to be taken seriously and actually considered a competitor to cryptos like Bitcoin and Ethereum. Also, Tangle helps IOTA to be significantly faster than standard Blockchain technology, but more on that later.
Founders of IOTA have rather diverse backgrounds. One of the founders is Sergey Ivancheglo, a software engineer from Belarus, then there are Russian mathematician Serguei Popov, Norwegian entrepreneur David Sønstebø and German entrepreneur Dominik Schiener.
Nonetheless, IOTA started to develop when Jinn Labs started to create efficient microprocessors for IoT (Internet of Things). In fact, the developers sold 100,000 JINN tokens to materialize the project, so you can imagine how popular the concept actually was.
However, some regulatory concerns occurred, and they forced the developers to change their strategy and align the project with regulations. Therefore, they launched IOTA, with the goal to create a platform for transactions between IoT devices.
That being said, IOTA is not based on the concept of Blockchain. It follows DAG (Directed Acyclic Graph) architecture instead. And as the whole thing doesn't require any miners, small transactions are fee-free.
All in all, IOTA might be having an innovative approach, but its technology is also quite experimental, so there are still many uncertainties.
Is IOTA a Good Investment?
If you're asking yourself: 'should I invest in IOTA?', you're not the only one. Apart from being different, IOTA is also a part of the crypto world that is, as you already know, quite volatile.
Also, you can't put IOTA into the same category as standard blockchain technology. In fact, IOTA is based on Tangle, a technology that is considered to be a step forward.
Additionally, transactions without fees and market performance attracted a lot of crypto enthusiasts. On the other note, the IOTA price didn't move much in 2019 and 2020, so the interest has dropped.
It started to move in 2021 though when we witnessed a change among most crypto projects.
At the end of the day, it all comes down to your goals and preferences. So, let's look at some of the elements/features that might affect your decision.
Increased Transaction Speed
As we mentioned earlier, when it comes to transaction speeds, IOTA is a lot better than blockchain technology. The thing is, Bitcoin and blockchain technology often have some transaction issues. And that's actually understandable since they need to ensure that every transaction gets verified, which ultimately makes them safe.
On the other hand, IOTA uses an exponential increase system. So, if there are more users engaged on the platform, everything will run faster. Plus, IOTA implements a consensus protocol which increases the possible authentication and verification speeds.
Either way, IOTA seems to work in a rather different way than some crypto giants like Bitcoin.
Free Micro Payments
When it comes to transaction fees, they have always been rather high for Bitcoin and Ethereum. In fact, Bitcoin's fees usually go into double digits, and that raises the question: are these currencies cost-effective and viable for performing small, everyday tasks?
IOTA managed to tackle this problem in a very smooth way. With IOTA, there are no transaction fees. And that's actually quite logical, since it's not based on Blockchain and, therefore, no mining is required.
That said, the smaller transactions we just mentioned would cost you very little or nothing. If you're wondering how to make crypto a part of your daily life, it seems like IOTA's free micropayments could be a solution.
Scalability
Without a doubt, scalability is one of the most challenging issues that Blockchain can come across. The thing is, as more users get on board, the harder it gets to perform a transaction. Then the verification process takes longer, and scaling suddenly becomes a more daunting idea.
However, as you might expect, IOTA approached this concept differently. We already mentioned the DAG which allows a processing module to become faster as more users engage with the platform.
Finally, with the IOTA's 'enhanced blockchain' Tangle, after the data identification, the data execution time equals zero. That's how IOTA effectively deals with the scalability issue that so many other projects face.
A Promising Future
The problem with blockchain is that it's pricey, especially for beginners who don't have access to disposable income. On the other hand, altcoins are quite affordable, so everything became more inclusive. But then again, safety concerns remain – the current level of security is very reassuring.
But IOTA manages to avoid all of these problems. As we mentioned earlier, IOTA is based on Tangle architecture powered by DAG. Therefore, it guarantees low cost, better speed, and higher security.
Safety
The Blockchain space strives to be decentralized, despite the fact that developers hold its control and are therefore able to modify it as they see fit. IOTA is, on the other hand, considered to be closer to genuine decentralization.
As such, IOTA provides community-powered security at a low cost. Therefore, it's ideal for any industry that wants to maintain data immutability. From that perspective, IOTA is becoming more and more viable.
IOTA Price
The current IOTA price is £0.28. And if you're not familiar with recent IOTA price movements, let's take a look at it briefly.
At the beginning of 2022, the price of IOTA was $1.36, and then it dropped. It has ranged from $0.50 – $1 since then. One of the reasons is Bitcoin's price crash in January.
IOTA is now ranked #56 crypto by market capitalization. And its trading volume in the last 24 hours is £16,080,413.
IOTA Price Predictions
Although you shouldn't take price predictions too seriously, as they're based on speculation, it's sometimes interesting to look at predictions on what things might look like in the future.
For IOTA, some analysts believe that a supply shock is likely to happen, mostly due to the investor's unwillingness to sell their IOTA tokens, even when the stock market and Bitcoin seem unstable.
Either way, the current IOTA price is still approximately 400% higher than the bear market bottom (hit in late 2019).
Another thing to consider is that IOTA used to be one of the top five cryptos with a $15 billion market cap in early 2018.
In that period of time, IOTA ranked #4 on Coinmarketcap, whilst Bitcoin was $12k. If it manages to reach this incredible valuation again, the IOTA price would rise again to around its all-time high, between $5 and $6.
The scenario we just described is not so hard to imagine considering the support being retested in 2022, after the accumulation cycle in the previous years.
Nevertheless, IOTA is focused on creating an enhanced version of decentralized finance. The idea is that cryptocurrencies become viable for everyday transactions. If IOTA manages to achieve its goals, it might very well reach its all-time high again.
Best Ways to Buy IOTA in the UK
If you're ready to buy MIOTA, there are several ways to do it. Of course, you should opt for a method that fits your goals and preferences, but you should also be careful about potential fees.
Buying IOTA with Debit or Credit Card
If you want to buy MIOTA with a debit/credit card, you can do it on the Crypto.com platform. The platform charges 2.99 % for bank cards, whilst Coinbase charges 3.99% (and it hasn't listed IOTA just yet).
Using a bank transfer is less expensive than a card, but that might be a longer process; that depends on your country though.
Buying IOTA with PayPal
If you want to opt for PayPal, you can head to the regulated broker eToro.
Buy MIOTA without ID
If you're wondering how to buy MIOTA without ID, you can do that on Changelly. Since the platform generally isn't meant to hold your funds, you'll need a wallet address to receive them.
Best IOTA Wallet
There are many great IOTA wallets out there. However, the best IOTA wallet for beginners is probably the eToro Money crypto wallet. This wallet will provide you with all the tools you need for trading.
You can download eToro's wallet for free (on iOS and Android) and you'll get an unlosable private key as well as a free recovery service in case you forget your password. eToro supports 120+ cryptos including IOTA.
How to Buy IOTA in the UK – Tutorial
As we promised earlier, here is a comprehensive step-by-step guide on how to buy MIOTA tokens. We will focus on buying IOTA with a beginner-friendly broker eToro.
1. Sign up with eToro
You need to create an account with eToro before proceeding to buy IOTA. To do this visit www.etoro.com on your mobile or web browser.
Register by selecting the JOIN NOW button and submit your information in the registration form. Make sure you verify your email address before proceeding.
2. Account Verification
eToro operates within the guidelines of multiple regulators so it will also have to verify your identity.
After successfully creating and verifying your email, you can verify your profile information. Update your profile and verify your identity with a passport or driver's licence.
Also, you will need to upload a clear and valid proof of address. This can either be your bank/credit card statement or internet bill. Wait for the verification to be confirmed before proceeding to fund your account.
3. Deposit fiat currency
You are now a verified user of eToro. You can proceed by funding your account via e-wallet or bank deposit. You need to fund your account because you'll need fiat currency to buy IOTA.
On eToro, you need to deposit at least $10 (approximately £7). You can choose from different payment methods including Visa, Mastercard, bank transfer and Neteller.
4. Navigate to IOTA and make a purchase
Once your fiat deposit has been confirmed, you can proceed to buy IOTA by navigating to the CRYPTO section. Search for IOTA or MIOTA and make your first IOTA purchase.
Once the site takes you to the IOTA trading page, determine how much money you want to spend and click on the 'Open Trade' button to confirm your purchase.
5. IOTA is now added to your eToro portfolio
After a successful purchase, the equivalent value of IOTA will be added to your crypto portfolio. Simple, isn't it?
How to Sell IOTA
If your investment strategy includes selling IOTA, you can do it the same way as buying it. To sell IOTA on eToro, you just need to use the 'Trade' button again.
If you're in the UK, selling IOTA is seen as a taxable event. Read about the UK government's stance on crypto tax here. Nevertheless, eToro will hold your IOTA until you're ready to sell.
Things to Remember Before Buying IOTA
Don't put in more than you can afford to lose – Cryptocurrency, like other financial assets, has unpredictable price action and movement. Therefore, it is important to invest with only an amount you can afford to lose. Also, you should develop and practice risk management.
Resist 'fear of missing out' – Discipline is a critical factor in attaining success in crypto investment. Avoid trading on emotions and mass frenzy. Ensure you analyse the market before jumping into a trade.
Understand tax consequences – Like everything else, cryptocurrency is also subjected to taxation. Ensure you know your tax liabilities, follow tax rules and make sure you pay them.
Long vs. short-term investment – Long or short-term investment is another common question, especially among beginners. Read about out the advantages and disadvantages of both investment strategies and weigh them to your preference.
After choosing your preferred type, ensure you know everything about it before finally delving into investing your funds. Also, it is important to choose an exchange platform that perfectly suits your trading style.
Final Thoughts
IOTA is one of the most promising altcoins this year, and there's a prediction that the price of IOTA will reach new highs. That being said, investing in IOTA might be a good idea, although there are many IOTA critics out there as well.
Nevertheless, if you want to buy IOTA in the UK, we recommend doing it on eToro. Whether you're a beginner or an experienced trader, eToro will allow you to get your hands on IOTA in a quick and easy way.
Additionally, you'll gain access to the platform's social trading news feed and profile, which will keep you up to date with the market and the IOTA price action.
Either way, we hope our comprehensive guide on how to buy IOTA UK has helped you make the right decision.
FAQs
Is IOTA Legal in the UK?
Cryptocurrencies are considered property and legal to own in the UK.
Will IOTA become the most valuable cryptocurrency?
Cryptocurrency price actions are difficult or even impossible to predict. Although IOTA is one of the top 60 cryptocurrencies based on market cap, it is still unlikely to become the most valuable cryptocurrency.
Can you buy less than 1 IOTA?
Yes. You can do this with fractional trading, where you can buy less than a whole coin.
Is it too late to buy IOTA?
Once again, price actions are difficult to predict, especially with cryptocurrencies. However, given that IOTA is in a dip, there are optimistic views that it will still recover. Its recovery can even be hastened by its several use cases and functions.