IOTA is a distributed ledger cryptocurrency designed to support the Internet of Things (IoT).
IOTA uses MIOTA to account for transactions in the network. It uses new transactions to validate old ones rather than using miners for transaction validation in many other cryptocurrencies.
This causes a reduction in transaction and gas fees, allowing for more use cases like micro-financing where exorbitant mining fees would have prohibited the deployment of crypto technology.
However, the non-standardised transaction method drew criticism on large-scale adoptions.
IOTA released version 1.5 in April 2021. The new version focused on helping critics' concerns about its non-standardized ways of doing things.
It was also designed to curb existing critical issues and other anticipated concerns. Since its improvement, IOTA has grown dramatically in adoption and market valuation. 
There are several ways to buy IOTA, especially with the growing number of exchanges and brokers.
However, there are still some lingering confusions about where, when and how to buy IOTA in the UK.
Today, we're going to shed more light on the best way to purchase IOTA safely in the UK.
How to Buy IOTA in the UK Using our Preferred Trading Platform: eToro
1. Sign up with eToro
You need to create an account with eToro before proceeding to buy IOTA. To do this: Visit www.etoro.com on your mobile or web browser.
Register by selecting the JOIN NOW button and submit your information in the registration form. Make sure you verify your email address before proceeding.
2. Account Verification
After successfully creating and verifying your mail, you can verify your profile information. Update your profile and verify your identity with a passport or driver's licence when necessary.
Also, you will need to upload a clear and valid proof of address. This can either be your bank/credit card statement or internet bill. Wait for the verification to be confirmed before proceeding to fund your account.
3. Deposit fiat currency
You are now a verified user of eToro. You can proceed by funding your account via e-wallet or bank deposit. You need to fund your account because you'll need fiat currency to buy IOTA.
4. Navigate to IOTA and make a purchase
Once your fiat deposit has been confirmed, you can proceed to buy IOTA by navigating to the CRYPTO section. Search for IOTA and make your first IOTA purchase.
5. IOTA is now added to your eToro portfolio
After a successful purchase, the equivalent value of IOTA will be added to your crypto portfolio. Simple, isn't it?
Best Ways to Buy IOTA in the UK
1. eToro
eToro is the best exchange platform to buy IOTA. Founded in 2006, eToro is a top-ranking exchange that offers a seamless crypto trading experience.
It is especially an ideal option for new investors due to its great user experience. It also provides an avenue to learn more about cryptocurrency and crypto trading strategies.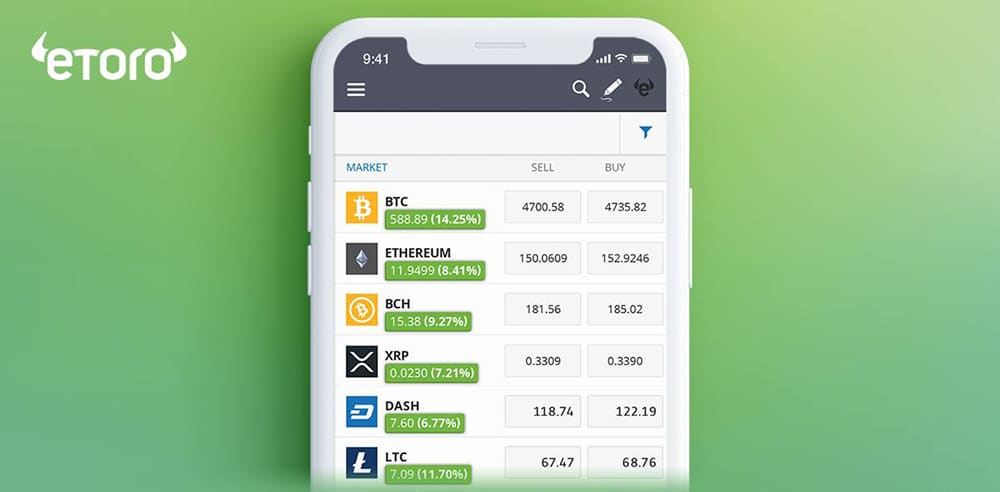 Pros
Cons
Straightforward account registration
Fiat deposit is limited to USD only
Large crypto listings of 42 cryptocurrencies
Does not offer non-crypto investments to US traders
Social trading and copy trading function
High withdrawal and non-trading fees
Low deposit and withdrawal threshold
Offers access to non-crypto investments like ETF, commodities,
stock, and forex trading
eToro is also the preferred platform to buy and invest in IOTA. It features great market tools like market and limit orders and advanced analytical tools to help investors mark out and execute their trading strategies conveniently.
Another advantage of buying IOTA on eToro is its ease of use. eToro provides a platform for buying, selling and storing cryptocurrency conveniently.
In addition, eToro also offers investments other than cryptocurrency, giving users the added advantage of managing cryptocurrency and other investments all under one platform.
2. Binance
Owing to its international adoption, Binance is another great option for buying or investing in IOTA. As the world's biggest and largest exchange platform, Binance offers many transaction types and, therefore, supports complex trading strategies.
Pros
Cons
Swift and free account funding
Although the trading commission is cheap, other exchange
platforms do not include these fees
Extremely wide range of coin listings, the largest in the
crypto market
Complicated UI mainly designed for experienced users
A wide range of supported transaction types
Binance is also a good option to store IOTA in cold wallets. It offers low trading and withdrawal fees and is effective for storing offline. However, storing offline limits the trading strategies an investor can use on Binance.
Additionally, Binance supports a wide range of fiat currencies that can be used to buy IOTA. This allows investors to leverage a better price to trade IOTA.
3. Coinbase
Another good alternative for buying IOTA is Coinbase. In contrast to many other exchange platforms, Coinbase offers different transaction types that can easily support complex trading strategies.
In addition to supporting many fiat currencies, Coinbase offers lower trading and deposit fees.
Pros
Cons
Free and swift payment that supports GBP
Complicated fee structure
Good number of coin listings
Fairly impressive features that are mainly useful for
beginners and not experienced traders
Availability of built-in cryptocurrency wallet
However, the issues surrounding Coinbase remain its major shortcoming, despite its functionality that helps minimise the disadvantages of eToro and Binance.
What Is IOTA?
As mentioned earlier, IOTA is a distributed ledger cryptocurrency designed to support transactions on the Internet of Things (IoT). IOTA has a key unique, innovative feature, Tangle, a system of nodes for transaction validation and confirmation.
Tangles are responsible for IOTA's faster, cheaper and better transaction execution than other cryptocurrencies.
IOTA suffered from some scaling issues, which led to criticism against it. However, its recent update, IOTA 1.5, addressed most of the scaling issues and anticipated ones.
Despite issues surrounding it, IOTA is one of the first cryptocurrencies to move from blockchain technology. IOTA now has a larger engagement to develop this process for more services planning to deviate from Blockchain technology.
Why Buy IOTA?
Due to its wide range of use cases and several scalability potentials, IOTA can make a rewarding investment. Despite its scaling and teething issues, IOTA's scalability potential is nearly unlimited. 
In contrast to Bitcoin, IOTA has moved out of blockchain technology and therefore doesn't have any scalability restrictions imposed by Blockchain. This has allowed IOTA to attain a more stable point while overcoming scalability constraints.
Another reason that makes IOTA a good investment is its fee-free nature. Unlike many other coins, IOTA does not use miners for transaction validation, reducing transaction fees to the lowest. This makes IOTA more attractive and acceptable for adoption in use cases like micro-financing where Blockchain technology is unsuitable.
IOTA is a brilliant innovation that can compensate for the shortcomings of Blockchain technology. Also, it is environmentally friendly to operate and therefore can be a perk for IOTA in a world looking for greener solutions.
IOTA Price Analysis and Prediction
Like other coins in the crypto sphere, IOTA has been impacted by high price volatility over the past two years. It attained a previous HTF high of £1.80 in April 2021.
However, it dipped back to £0.52 in July. Despite this bearish outlook, analysts speculate that its long-term analysis makes it a good investment as it has begun a bullish rally. Additionally, some analysts speculated that IOTA might spring up to £3.20 by 2025. This speculative price is feasible because it is currently trading at £1.03 per coin.
Despite the bullish outlook on IOTA, it is struggling hard to recover back to its ATH of £3.56 attained in December 2017 after securing huge partnerships and endorsements with international companies like Microsoft. However, Microsoft later denied the partnership claims, crashing its price by more than 60% to £1.26 in just 2 months.
Things to Remember Before Buying IOTA
Don't put in more than you can afford to lose – Cryptocurrency, like other financial assets, has unpredictable price action and movement. Therefore, it is important to invest with only the amount you can afford to lose. Also, you should develop sound risk management.
Resist 'fear of missing out' – Discipline is a critical factor in attaining success in crypto investment. Avoid trading on emotions and mass frenzy. Ensure you analyse the market before jumping into a trade.
Understand tax consequences – Like everything else, cryptocurrency is also subjected to taxation. Ensure you know your tax liabilities, follow tax rules and make sure you pay them.
Long vs. short-term investment – Long or short-term investment is another common question, especially among beginners. Check out the advantages and disadvantages of both investment strategies and weigh them to your preference.
After choosing your preferred type, ensure you know everything about it before finally delving into investing your funds. Also, it is important to choose an exchange platform that perfectly suits your trading style.
FAQs
Is IOTA Legal in the UK?
Generally, cryptocurrencies are considered property and legal to own in the UK.
Will IOTA become the most valuable cryptocurrency?
Cryptocurrency price actions are difficult or even impossible to predict. Although IOTA is one of the top 50 cryptocurrencies on the market, it is still unlikely to become the most valuable cryptocurrency.
Can you buy less than 1 IOTA?
Yes. You can do this with fractional trading, where you can buy less than a coin.
Is it too late to buy IOTA?
Once again, price actions are difficult to predict, especially with cryptocurrencies. However, given that IOTA is in a dip, there are optimistic views that it will still recover. Its recovery can even be hastened by its several use cases and functions.