IOTA is a cryptocurrency aimed at supporting the Internet of Things (IoT). It does not use miners to validate transactions, rather it focuses on using new transactions to validate old ones which allows it to reduce fees. This reduction in fees allows for more use cases such as micro-financing, where previously fees would have prohibited such a deployment of technology. This lack of a non-standardised way of doing things led to some criticism about whether it would be able to work at scale.
In April 2021, IOTA released version 1.5 to help address some of the criticisms about its non-standard way of doing things. This release was designed to help overcome some of the anticipated issues and remove some of the criticism that came with it.
However, since then, it has become a multi-billion pound digital currency that continues to grow. There are numerous ways to purchase cryptocurrency, but even today there is still a lot of confusion and many questions surrounding how to buy IOTA in the UK.
Today, we're going to clear up that confusion in our simple-to-follow guide.
How to Buy IOTA in the UK Using Our Preferred Trading Platform: eToro
1. Sign up with eToro
You need to create an account with eToro. You do this by going to their site, www.etoro.com, and selecting the join now button and the below form will appear, complete it and it will take you to the next page.
2. Account Verification
Verify your account. When prompted, complete your profile, and keep your National Insurance number nearby to get everything verified. You'll need to upload a valid proof of identity (e.g. passport or driver's license) and proof of address (e.g. bank/credit card statement, internet bill).
3. Deposit fiat currency
Connect your bank or e-wallet, deposit funds to fund your account using the following options pictured below. You must have fiat currency in your eToro account to buy IOTA.
4. Navigate to IOTA and make a purchase
Once your funds are available in your account, you'll be ready to buy IOTA! Simply navigate to the IOTA page and make your first purchase.
5. IOTA is now added to your eToro portfolio
Best Ways to Buy IOTA in the UK
1. eToro
The best place to buy IOTA is eToro. eToro offers a great platform and user experience for buying and selling cryptocurrencies. It's especially strong for beginner investors who are looking for a platform that can help teach them better strategies for trading.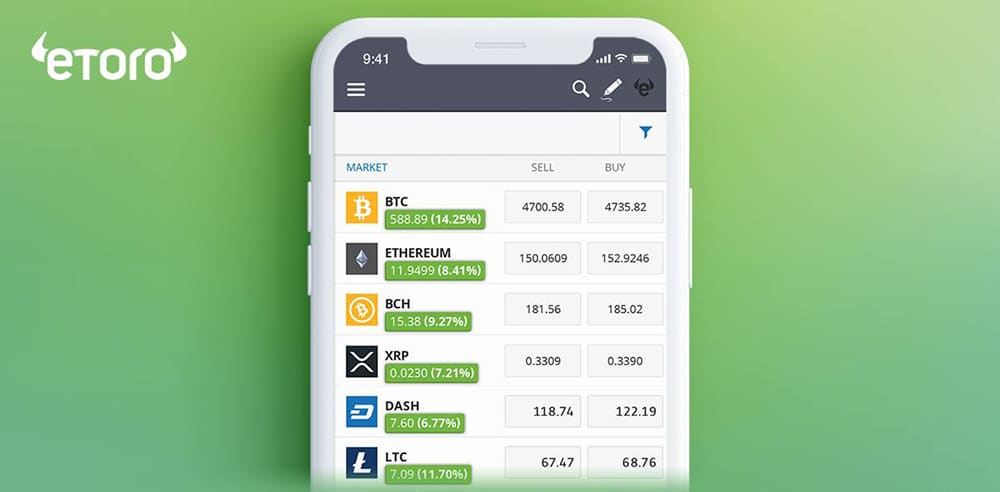 | | | |
| --- | --- | --- |
| Fees | Currencies Supported | Transaction Type |
| $5 for withdrawals (even for UK investors), 0% on trades, although spread costs apply, eToro also only operate in USD so you will also face spread costs for any other currencies | 18 supported | Buy, sell, market orders and limit orders |
eToro is also a great platform for those looking to hold IOTA as an investment product, opposed to using it as a currency. eToro has great tools such as market and limit orders to help investors set up strategies and execute them with ease.
Another reason to buy IOTA on eToro is down to its ease to buy, store and sell securely on their platform all in one place. This ease of use makes it a great platform for investors to use. Added to this, they also offer other investments, giving users the added benefit of being able to manage their cryptocurrency investments and non-cryptocurrency investments in one place.
2. Binance
Binance is another great option for anyone looking to invest in IOTA using more complex transaction types. With its large number of transaction types, Binance can support far more complex investment strategies compared to other platforms.
| | | |
| --- | --- | --- |
| Fees | Currencies Supported | Transaction Type |
| 0.02%- 0.1% purchase and trading, 3% to 4.5% for debit card purchases, free single EuroPayment Area transfer, or $15 per wire transfer in the US, Free UK bank transfers. | Over 500 for global investors. | Limit order, market order, stop-limit order, trailing stop order, post-only order, peer-to-peer trading, margin trading, one-cancels-the-other order. |
Binance is also a good option for those investors looking to store IOTA in cold, offline wallets. With its low fees for trading and withdrawing, Binance can be very cost-effective for storing offline, although this does limit the number of trading strategies an investor can engage in.
The final reason Binance is also a solid platform to buy IOTA is down to a large number of currencies it supports. This gives investors the opportunity to use other cryptocurrencies to leverage a better price to buy and sell IOTA, which is something a lot of other platforms can't support.
3. Coinbase
Our final option for buying IOTA is Coinbase. Coinbase offers a wide variety of transaction types, which can support more complex investment strategies compared to other platforms on the market. Coinbase also has lower trade fees and deposit fees, plus supports fiat currencies. All of this makes Coinbase especially good for newer traders.
| | | |
| --- | --- | --- |
| Fees | Currencies Supported | Transaction Type |
| 3.99% for instant buys, free faster payments, 2% plus £0.55 for instant withdrawals. Spread of around 0.5% for all trades plus a variable fee between £0.99-£2.99 | 50+ supported | Buy, sell, send, receive, and exchange |
The main caveat to Coinbase is despite it having functionality that helps bridge the gap between Binance and eToro it also suffers from issues that make it not as competitive, depending on what you're looking for.
What Is IOTA?
IOTA was built to support transactions between different parties in the Internet of Things. Its key difference to other cryptocurrencies is its use of Tangle, which is claimed to be faster, cheaper, and overall better than other cryptocurrencies for executing transactions.
IOTA did suffer from some scaling issues which led to hacks against it. Some of these scaling issues were addressed in a recent update (April 2021), which led to an IOTA version 1.5. Despite these issues, IOTA has benefitted from being one of the first cryptocurrencies to move on from Blockchain technology, which could help boost further engagement as more services look to deviate from this.
Why Buy IOTA?
IOTA may make a suitable investment as it has a near-unlimited scalability potential. Despite early setbacks and teething issues, the scalability potential is huge. Unlike Bitcoin, IOTA doesn't have the same scalability constraints imposed by Blockchain technology allowing it to overcome this and reach a more stable point.
Another reason to buy IOTA is due to not charging fees. Due to the way IOTA is built, it doesn't need to support a network of miners to verify transactions, reducing the number of fees needed to be paid by users. This makes it more attractive and also allows IOTA to support other use cases that Blockchain technology might not be able to, such as micro-financing.
Finally, because of its ability to overcome some of the issues presented by Blockchain technology, IOTA is also more environmentally friendly to operate. As the world looks for solutions to become greener, this will stand to benefit IOTA over other players in this space.
IOTA Price Analysis and Prediction
Like a lot of cryptocurrencies, IOTA has not been able to avoid price volatility over the last 2 years. IOTA reached a peak in April 2021 of £1.80 per coin but crashed down to £0.52 by mid-July 2021. Despite this, analysts believe IOTA is beginning to show signs of rallying and the long-term prospects are good. Some analysts believe IOTA will reach a price of £3.20 by 2025, which would be a huge jump from today's price of £0.76 per coin (as of writing).
Despite all this, IOTA is still struggling to recover from the highs of December 2017, where they had said they had secured a partnership with big companies including Microsoft, this drove a rally on the coin, pushing the price to £3.56 per coin. Later on though Microsoft confirmed there was no partnership, causing the price of the coin to crash down to £1.26 per coin just 2 months later.
Things to Remember Before Buying IOTA
Don't put in more than you can afford to lose – remember, IOTA like all cryptocurrencies are speculative and you may lose more than you gain, make sure you only trade amounts you'd be willing to lose.
Resist 'fear of missing out' – avoid trading on emotions, FOMO is the Achilles heel of many traders who jump in when it's too high and don't stay the course, meaning they end up losing money as they invested on an emotional level without thinking things through.
Understand tax consequences – make sure you stay on the right side of your taxes, and cryptocurrencies, like everything else in life, they are subject to taxes. Make sure you know your tax liabilities and comply with them.
Long vs short-term investment – consider the benefits and drawbacks when looking at trading any cryptocurrency as a long versus short-term investment. It's also worth looking at whether your chosen platform or exchange is better suited to long versus short-term positions.
FAQs
Is IOTA Legal in the UK?
Yes, buying IOTA is perfectly legal in the UK.
Will IOTA become the most valuable cryptocurrency?
Anything is possible, especially with cryptocurrency. That being said, it is unlikely that IOTA will become the most valuable cryptocurrency. 
Can you buy less than 1 IOTA?
Yes, fractional trading is available with IOTA meaning you don't have to buy 1 coin.
Is it too late to buy IOTA?
We wouldn't say it's too late to buy IOTA as prices are currently in a dip and could recover. Given IOTA use cases and new functions, it may not be too late, but it's still a little too speculative.