The altcoin Dash was launched in January 2014, forked from the Bitcoin program. It was initially called "Xcoin" during production and changed its name over time.
Evan Duffield created the coin to help the inadequacy of Bitcoin, such as swift transactions and reduced transaction fees. However, people misused its benefit in the darknet market so much that it was regarded as the "Darkcoin" in 2015.
After four years of introduction, Dash gained popularity and ranked among the top 50 cryptocurrencies worldwide with a market cap of £2.8bn.
There's been a lot of uncertainty about how to buy Dash in the UK despite the various means by which you can purchase cryptocurrency.
It is understandable how people are being scammed and disappointed about various platforms to get their cryptocurrency. However, I will resolve this uncertainty as you continue with the article.
How to Buy Dash in the UK Using Our Preferred Trading Platform: eToro
1. Sign up with eToro
To sign up, you need to create an account with eToro by visiting www.etoro.com. Click the JOIN NOW button to fill in your details. Verify your email address to continue to the next page.
2. Account Verification
Verifying your account requires completing your profile by uploading a valid proof of identity (e.g., passport or driver's license) and valid proof of address which could be an internet bill or bank/credit card statement.
It's quite recommended to get your National Insurance number to complete the verification.
3. Deposit fiat currency
eToro uses different means of payment, either by connecting your bank or e-wallet with options to fund your account. Follow through the process to deposit. To purchase Dash, you need to fund your eToro with fiat currency.
4. Navigate to Dash and make a purchase
Once your account is funded, Navigate to the Cryptocurrency page and select Dash, where you make your first purchase and have the token added to your crypto asset.
5. Dash is now added to your eToro portfolio
After refreshing your account, your Dash coin will be displayed on your screen and added to your eToro portfolio.
Best Ways to Buy Dash in the UK
1. eToro
eToro has many benefits to offer when buying Dash and many other cryptocurrencies, making it the best crypto platform for your purchases. They include:
● A large number of transaction types
● Different major currencies
● Copy-trading (a tool to help beginning crypto traders and professionals navigate trades and ensure profitability.)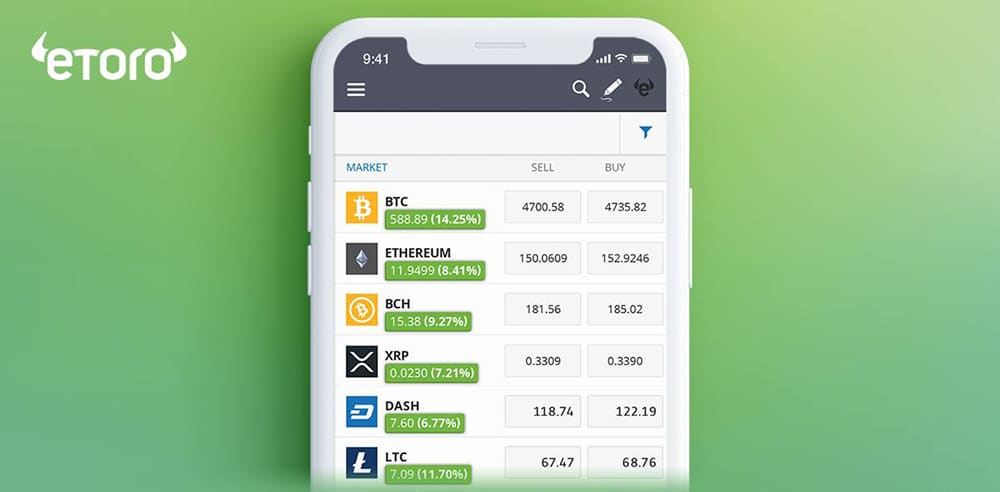 Pros
Cons
Straightforward account registration
Fiat deposit is limited to USD only
Large crypto listings of 42 cryptocurrencies
Does not offer non-crypto investments to US traders
Social trading and copy trading function
High withdrawal and non-trading fees
Low deposit and withdrawal threshold
Offers access to non-crypto investments like ETF, commodities,
stock, and forex trading
Unlike many other platforms, eToro supports cryptocurrencies and other forms of investments such as commodities, bonds, and stocks.
The availability of different transaction types will help you place an order and execute it without your presence. Most especially, a buy or sell order follows this pattern, and like I said earlier, just set an order, and the platform will execute it right at that moment without you being there.
Another advantage offered by eToro is the safety of your crypto assets. There's an increased level of security with your Dash and portfolio on this platform, either when you are offline or using the app.
It provides certainty that your assets are protected and not viable for any hack or attack due to their tight and efficient cybersecurity in place.
To cap it all, eToro provides an easy-to-use interface that is helpful for both new investors and professional investors.
The simple applicability allows you to make fast decisions, execute lots of transactions within moments, and many more. Also, they provide their customers with quick responses if any complaints arise and therefore they have excellent customer service.
2. Binance
Another alternative is Binance. Binance is more suitable for professional traders or investors because it features different transaction types and also holds large numbers of cryptocurrencies.
Also, the interface is a bit difficult to navigate, unlike eToro, except for experienced investors who've mastered its use.
Pros
Cons
Swift and free account funding
Although the trading commission is cheap, other exchange
platforms do not include these fees
Extremely wide range of coin listings, the largest in the
crypto market
Complicated UI is mainly designed for experienced users.
A wide range of supported transaction types
Despite these cons, Binance is one of the cheapest platforms to perform your transactions and the most affordable platform to place your withdrawal.
Due to this meagre transaction cost, it's suitable for investors to hold their Dash coin for a long time in a cold wallet (for safety) without being charged much for this action.
In addition, the Binance platform is known to have the highest liquidity market in the crypto space due to the millions of users trading daily on this platform.
It is helpful for investors and Dash owners to buy and sell Dash at their chosen price since it houses lots of people ready to purchase or sell it. It also allows investors to remain steady even in turbulent times.
3. Kraken
Kraken is another fantastic platform with some features that are helpful in the investment of Dash and we will discuss them as we continue with this article.
| Pros | Cons |
| --- | --- |
| Excellent for all traders of different experience level | Complicated fee structure. However, the fee decreases as trading volume increases |
| Good numbers of coin listings | The absence of a built-in wallet can be an issue for beginner traders |
| Low transaction and trading fee | |
Kraken offers margin trading to allow more yield for Dash owners to trade. However, margin trading is a risky investment that allows traders to leverage their funds to amass lots of profits in uptrend or downtrend positions, i.e., going long or short.
However, leveraging may incur losses, and it might even stop you from trading before you make profits. It takes professionalism to analyze the trade and decide to place an order because a poor start or set-up can lead to catastrophic losses.
The platform also provides increased security and a small cost for transaction fees, making it suitable to invest in your Dash for a long time. The low fee allows for added advantage in that it allows you to either invest on or out of the platform.
Also, Kraken allows users to purchase Dash coins by using their debit or credit card directly instead of a monopolized payment method. And this is beneficial for Dash investors to relieve them of the stress despite the cost it incurs to purchase with fiat currency.
Due to this added advantage, it supports the UK users to reduce the foreign exchange fees allotted to other platforms that don't support payment in GBP or involve buying other crypto coins before you can exchange them to Dash, which incurs exorbitant fees.
What Is Dash?
Dash is a Bitcoin derivative (altcoin), founded to provide solutions to some inabilities of Bitcoin and also to maintain its usage.
The founder, Evan Duffield, regarded it as a privacy-centric cryptocurrency based on Bitcoin. The name "Dash" originated from "Digital Cash," and the use is seen through the name.
It aims to be used for digital transactions like your credit card, PayPal, and other e-transactions but with a digital cryptocurrency.
Despite Dash's proximity to Bitcoin, it is differentiated by its algorithm, using an X11 that makes use of a "proof of stake system" (PoS) in comparison to the use of a "proof of work system" (PoW) by Bitcoin.
Dash also employs the use of "CoinJoin" (a strategy for protecting privacy for Bitcoin users) to ensure Dash users' privacy.
Another differentiating factor between Dash and Bitcoin is the "Instant send" and "Private send." The Instant send allows for instantaneous transactions to another peer, while Private send is designed to hide transaction payments using Dash.
Why Buy Dash?
Dash is aimed to promote users' privacy compared to other cryptocurrencies, which is one of the essences of cryptocurrency.
Dash has a bright future in the coming years as its recovery is currently in motion, and these points showcase that Dash is investment-worthy and should be noted.
Dash Price Analysis and Prediction
Dash is now priced at £150 per coin. Dash initially traded at £1000 per coin in 2018 but plunged as low as £50 per coin in early 2019. Despite the depreciation, it has been recovering slowly all through 2021.
Analysts have predicted that it might continue its slow bullish movement to £500 by 2023, making it an excellent long-term investment. However, some analysts countered this prediction stating that it may not recover fully and even hit a dead end of £0 in 5 years.
Things to Remember Before Buying Dash
Don't put in more than you can afford to lose: It is recommended to trade Dash with funds you can spare. Like other cryptocurrencies, Dash's price action is unpredictable and could cause catastrophic loss; therefore, trade with amounts you can afford to lose.
Resist 'fear of missing out: Many traders have lost substantial funds due to FOMO. Emotions try to take over, especially when you decide to join the trend. It's good to make sound analyses and follow the analysis strictly before taking on any trading position.
Understand tax consequences: Like you have taxes on fiat currencies, the same works for cryptocurrency. Ensure you stay on track with your taxes and abide by the liabilities associated with them.
Long vs. short-term investment: Learn the cons and pros of long- and short-term investment. Check for which works best for you, and don't be too eager to choose. Also, check for platforms that best suit your needs and meet your requirements in either long or short positions.
FAQs
Is Dash legal in the UK?
Yes, purchasing Dash is completely legalized in the UK.
Will Dash become the most valuable cryptocurrency?
The possibility with cryptocurrency is quite unpredictable, but despite the features of Dash, there's a slim chance of it attaining that position.
Can you buy less than 1 Dash?
Yes, this type of trading is called fractional trading, i.e., you do not need to buy 1 Dash.
Is it too late to buy Dash?
Dash is currently recovering from a deep dip and could recover fully. Moreover, due to the functionality and features of Dash, it may not be too late; still, its price movement is unpredictable.