Launched in 2014, Dash is another coin that forked from Bitcoin (in a similar way to Bitcoin Cash) that was originally called Xcoin. Dash was founded to overcome some of the downsides to Bitcoin including helping protect its user's anonymity whilst facilitating instant transactions. As a result, it was used quite extensively on the dark web, although as of today it is no longer used in this fashion. 
As of 2018 Dash had a market cap of £3bn, making it one of the top 12 cryptocurrencies by market cap globally.
There are numerous ways to purchase cryptocurrency, but even today there is still a lot of confusion and many questions surrounding how to buy Dash in the UK.
Today, we're going to clear up that confusion.
How to Buy Dash in the UK Using Our Preferred Trading Platform: eToro
1. Sign up with eToro
You need to create an account with eToro. You do this by going to their site, www.etoro.com, and selecting the join now button and the below form will appear, complete it and it will take you to the next page.
2. Account Verification
Verify your account. When prompted, complete your profile, and keep your National Insurance number nearby to get everything verified. You'll need to upload a valid proof of identity (e.g. passport or driver's license) and proof of address (e.g. bank/credit card statement, internet bill).
3. Deposit fiat currency
Connect your bank or e-wallet, deposit funds to fund your account using the following options pictured below. You must have fiat currency in your eToro account to buy DASH.
4. Navigate to Dash and make a purchase
Once your funds are available in your account, you'll be ready to buy Dash! Simply navigate to the Dash page and make your first purchase.
5. Dash is now added to your eToro portfolio 
Best Ways to Buy Dash in the UK
1. eToro
eToro is the best place to buy Dash for a number of reasons, including many that make eToro great for buying any cryptocurrency. This includes a wide range of supported transaction types, good coverage of currencies, as well as tools and resources to help new investors succeed early on.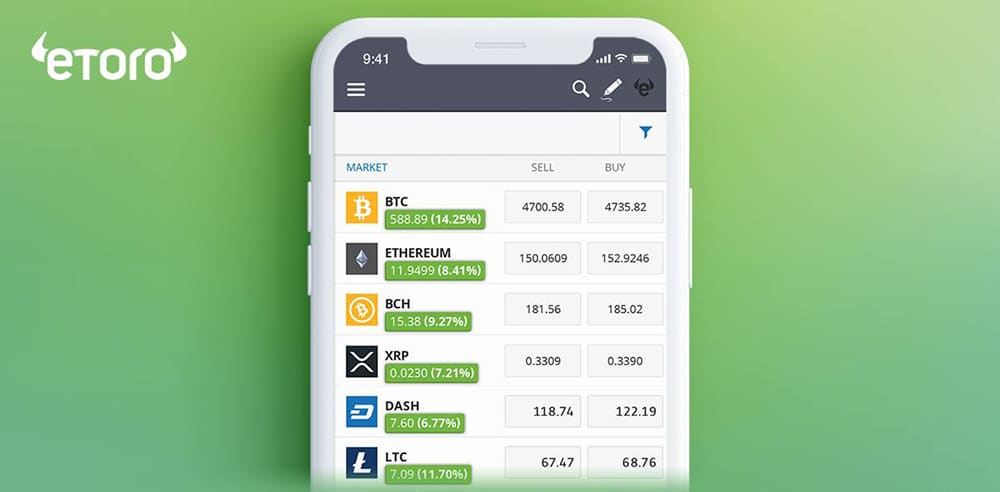 | | | |
| --- | --- | --- |
| Fees | Cryptocurrencies Supported | Transaction Type |
| $5 for withdrawals (even for UK investors), 0% on trades, although spread costs apply, eToro also only operates in USD so you will also face spread costs for any other currencies. | 18 supported | Buy, sell, market orders and limit orders |
eToro is a platform that also supports traditional investments, such as commodities, bonds and stocks, which makes it a great choice for investors looking to hold cryptocurrency for a longer period of time. These strategies can be made better by utilizing tools on the eToro platform to execute buy or sell orders at certain limits, meaning investors don't need to constantly check their investments.
Added to this, the increased security of the eToro platform encourages peace of mind for investors who want to store their Dash on a hot wallet vs offline. This security helps decrease the chances of it being stolen during a hack or other cybersecurity event.
Finally, eToro has a great user interface and user experience which will help both new investors navigate the additional functionality as well as serving more experienced investors in far more depth.
2. Binance
The next best option is Binance. Binance is a little more suited to experienced investors, offering far more transaction types as well as more cryptocurrencies than any other platform. This can be a little overwhelming to new investors though who may also find Binance's user interface and experience a little confusing.
| | | |
| --- | --- | --- |
| Fees | Currencies Supported | Transaction Type |
| 0.02%- 0.1% purchase and trading, 3% to 4.5% for debit card purchases, free single EuroPayment Area transfer, or $15 per wire transfer in the US, Free UK bank transfers. | Over 500 for global investors. | Limit order, market order, stop-limit order, trailing stop order, post-only order, peer-to-peer trading, margin trading, one-cancels-the-other order. |
Binance is a great option as it is the cheapest to withdraw from. These low costs are ideal for any investor who again, is looking to hold Dash for a prolonged period, but doesn't wish to hold it on the platform for security reasons. This is great for those who are keen to store their cryptocurrencies in a cold wallet but don't want to incur additional fees to do so.
Added to this, Binance also offers higher liquidity than other platforms. As the biggest cryptocurrency exchange, Binance has more users buying and selling at any given point, allowing investors to buy or sell Dash, at their chosen prices, at near enough any time as a result of this liquidity. This makes Binance a great platform to support investors during more turbulent investment periods.
3. Kraken
Kraken can be another great platform to consider, offering a number of features that Dash investors may find incredibly useful.
| | | |
| --- | --- | --- |
| Fees | Cryptocurrencies Supported | Transaction Type |
| Between 0%-0.26% based on 30-day volumes. Free faster payment deposits, but SWIFT and CHAPS incur £3/£21 fees respectively. | 70+ supported. | Buy, sell, send, receive, exchange, margin trading, limit order, market order, stop-loss limit order, stop-loss market orders, futures trading, take profit market order, and more. |
Margin trading, whilst risky, can be a great way for investors to extend their gains by leveraging additional funds. Kraken offers this functionality which can be great for investors who want to leverage Dash to make more profit during an upwards trend (or downwards if shorting).
There are risks around leveraging though and it's important to keep enough money to cover immediate losses, or the platform could close your trade before you realise a profit. This could lead to hard losses during temporary dips.
The higher security and lower fees offered by Kraken can make it a great platform for investors who want to store their Dash either on or off the platform, allowing for more flexibility depending on trading strategy.
Kraken can be a great option for those who wish to buy Dash directly using a credit or debit card. Despite the additional fees this will incur, this could help those who wish to buy directly using fiat currency.
Added to this, Kraken support this functionality in GBP, unlike a lot of other platforms. This could help reduce the cost of fiat currency spreads or buying other cryptocurrencies that then incur users further fees.
What Is Dash?
Dash is an alternative to Bitcoin (also called an altcoin) with an aim of overcoming some of the pitfalls of Bitcoin, whilst also keeping the main benefits. Its founder described it as a privacy-centric cryptocurrency based on Bitcoin. Dash's name comes from combining digital cash, which should provide a good overview as to what it aims to be used for, a digital cash in a similar way to card payments are used online.
Dash differs from Bitcoin primarily by its underlying algorithm. Dash uses X11, which uses a proof of stake system, compared to Bitcoin's proof of work systems. Dash also uses conjoin to help further increase the privacy of users.
Dash also offers two different functions to help differentiate it further from Bitcoin, Instantsend and Privatesend. The first is designed for near-instant payments to be facilitated and the second function is designed for supporting anonymised payments.
Why Buy Dash?
Unlike Bitcoin and other cryptocurrencies, Dash is still primarily focused on user privacy, one of the core tenants of why people should use cryptocurrencies. Dash also has a strong chance of recovering quite well over the coming years (and is currently recovering), so from an investment standpoint, it could be interesting.
Further to this if people want to use the Dash platform to utilise features such as Instantsend or Privatesend then buying Dash coin will be great for reducing the cost of using the platform.
Dash Price Analysis and Prediction
With a current price of £140 per coin, Dash has dropped from its highs of nearly £1,000 per coin in 2018 and actually dropped down to near £50 per coin in early 2019. From these lows though, Dash has slowly recovered throughout 2021.
Analysts predict Dash will continue its slow recovery, growing to near £500 by 2023, which would definitely make it more of a long-term investment. That being said, there are some analysts who are arguing that Dash may not fully recover and may even collapse to £0 in the next 5 years.
Things to Remember Before Buying Dash
Don't put in more than you can afford to lose – remember, Dash like all cryptocurrencies are speculative and you may lose more than you gain, make sure you only trade amounts you'd be willing to lose.
Resist 'fear of missing out' – avoid trading on emotions, FOMO is the Achilles heel of many traders who jump in when it's too high and don't stay the course, meaning they end up losing money as they invested on an emotional level without thinking things through.
Understand tax consequences – make sure you stay on the right side of your taxes, and cryptocurrencies, like everything else in life are subject to taxes. Make sure you know your tax liabilities and comply with them.
Long vs short-term investment – consider the benefits and drawbacks when looking at trading any cryptocurrency as a long versus short-term investment. It's also worth looking at whether your chosen platform or exchange is better suited to long versus short-term positions.
FAQs
Is Dash legal in the UK?
Yes, buying Dash is perfectly legal in the UK.
Will Dash become the most valuable cryptocurrency?
Anything is possible, especially with cryptocurrency. That being said, it is unlikely that Dash will become the most valuable cryptocurrency. 
Can you buy less than 1 Dash?
Yes, fractional trading is available with Dash meaning you don't have to buy 1 coin.
Is it too late to buy Dash?
We wouldn't say it's too late to buy Dash as prices are currently in a dip and could recover. Given Dash use cases and new functions, it may not be too late, but it's still a little too speculative