Being the first cryptocurrency on the scene, Bitcoin enjoyed a rise in value before other cryptocurrencies entered the scene. Bitcoin was invented back in 2008 by Satoshi Nakamoto, designed to be a decentralised currency that did not have a singular administrator or central bank to govern it.
Built on blockchain technology, which is a distributed ledger built of nodes, Bitcoin is a reward for an activity called mining which helps support the blockchain network. Mining in short is an activity that helps process transactions and supports the network.
There are many ways to buy various cryptocurrencies, but even today there is still a lot of confusion and many questions surrounding how to buy Bitcoin in the UK.
The two most common ways are using either a trading platform or an exchange. A trading platform works as a platform or service that sits between different markets to help facilitate either the purchase or sale of cryptocurrency. At a really simplistic level, they match your buy price with someone's sell price.
A trading exchange is a service that helps enable a sale by bringing two parties together to trade directly with each other I.e. I'll sell X Bitcoin in return for Y Ripple. This differs from a platform/broker in the sense of you are going directly to the seller/buyer rather than selling directly to an intermediary or broker.
How to Buy Ethereum in the UK Using Our Preferred Trading Platform: eToro
1. Sign up with eToro
You need to create an account with eToro. You do this by going to their site, www.etoro.com, and selecting the join now button and the below form will appear, complete it and it will take you to the next page.
2. Account verification
Verify your account. When prompted, complete your profile, and keep your National Insurance number nearby to get everything verified. You'll need to upload a valid proof of identity (e.g. passport or driver's license) and proof of address (e.g. bank/credit card statement, internet bill).
3. Deposit fiat currency
Connect your bank or e-wallet, deposit funds to fund your account using the following options pictured below. You must have fiat currency in your eToro account to buy BTC.
4. Navigate to Bitcoin and make a purchase
Once your funds are available in your account, you'll be ready to buy Bitcoin! Simply navigate to the Bitcoin page and make your first purchase.
5. Bitcoin is now added to your eToro portfolio
Best Ways to Buy Bitcoin in the UK
1. eToro
What makes eToro such an attractive proposition to buy Bitcoin in the UK is a combination of its low fees, increased transaction types and liquidity.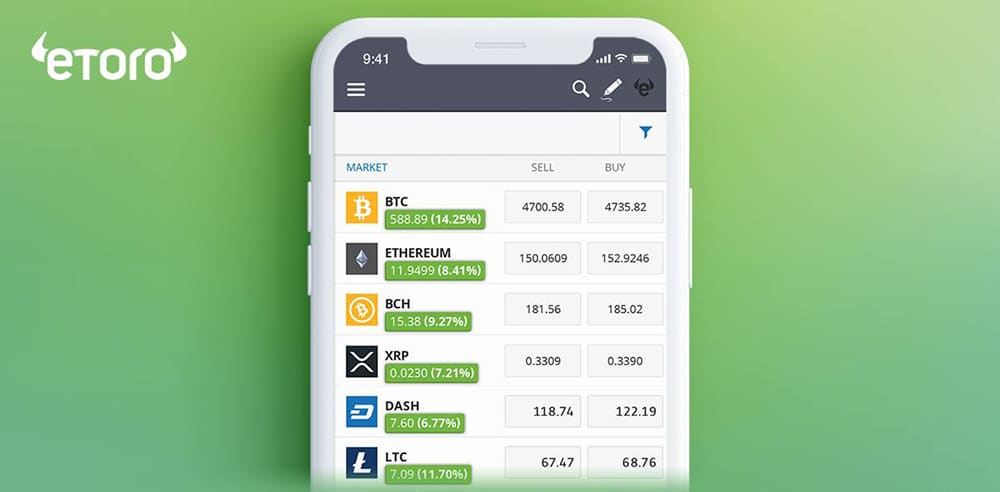 | Fees | Cryptocurrencies Supported | Transaction Types |
| --- | --- | --- |
| $5 for withdrawals (even for UK investors), 0% on trades, although spread costs apply, eToro also only operate in USD so you will also face spread costs for any other currencies | 18 cryptocurrencies supported | Buy, sell, market orders and limit orders |
It also offers social trading and the ability to copy top traders, allowing newer traders to get a better understanding of when they should and shouldn't buy Bitcoin. This can help them better understand the market more making them better traders as well as potentially helping reduce losses.
eToro claims to have no trading fees and whilst it doesn't charge a commission for trades, there are some fees to be aware of including $5 for withdrawals.
Irritatingly they only work in USD, meaning all USD to GBP transactions may incur further foreign exchange fees. Further to this, eToro does charge spreads on all trades which change depending on market factors, but this is standard across most brokers or platforms.
eToro has a number of features including increased transaction types compared to other platforms. These include market orders and limit orders, beyond the normal buy or sell transaction types. It also supports 18 cryptocurrencies including Bitcoin.
Beyond this, eToro also uses technology to increase its liquidity, helping traders execute trades including Bitcoin in more optimal timings compared to other platforms or brokers in the market.
eToro is a great platform for traditional investors looking to expand their portfolio as it means all investments can be managed by one platform. On top of the great app and low costs, eToro also offers a cryptocurrency wallet too which is especially useful for beginners trying to get their heads around cryptocurrency.
Some other benefits are the way their spreads work, they either increase the cost or decrease them based on a number of factors, but they do help manage liquidity, meaning it's easier for investors to execute trades when they want.
The main drawback to eToro is that it only funds in USD, meaning UK-focused customers are likely to be impacted by either exchange rate fees or spreads depending on how they fund their account unless they use a payment service with better rates, such as (Transfer)Wise.
2. Binance
Binance is the world's largest cryptocurrency exchange and another great option for buying Bitcoin in the UK.
| Fees | Cryptocurrencies Supported | Transaction Types |
| --- | --- | --- |
| 0.02%- 0.1% purchase and trading, 3% to 4.5% for debit card purchases, free single EuroPayment Area transfer, or $15 per wire transfer in the US, free UK bank transfers | Over 500 for global investors | Limit order, market order, stop-limit order, trailing stop order, post-only order, peer-to-peer trading, margin trading, one-cancels-the-other order |
Binance makes a great option as it has the highest number of active users increasing liquidity to help traders optimise their trades and reduce the negative effects of illiquidity when trading bitcoin.
This is especially useful for day traders or during big swings and wanting to exit quickly. Another great reason to use Binance is they have a lot of transaction types supported.
The fees for Binance are the lowest in the market, charging between 0.02% to 0.1% for purchasing and trading, 3% to 4.5% for debit card purchases and free bank transfers for UK traders using the faster payment system.
Binance offers a lot of features to Bitcoin traders, such as a large variety of transaction types, like a limit order, market order, stop-limit order, trailing stop order, post-only orders, peer-to-peer trading, margin trading, one-cancels-the-other order. All of which can support traders who use more complex Bitcoin trading strategies.
Also, being the biggest cryptocurrency exchange in the world, it benefits from a large amount of liquidity due to a large number of traders. However, unlike eToro, they don't use outsourced partners to increase this liquidity meaning traders could be more exposed to the effects of illiquidity (although arguably this is less of an issue with Bitcoin compared to other cryptocurrencies).
Binance is a great option to buy Bitcoin as it has very low fees and fast funding of accounts, it supports a large range of transaction types, which allows for more trading strategies. Where Binance struggles for Bitcoin trading compared to other platforms is commission charges, whilst Binance are cheap, other platforms like eToro don't charge these. Also, Binance can be fairly overwhelming to new investors which can make it harder as a platform to get started with.
3. Crypto.com
The third option for buying Bitcoin in the UK is crypto.com. Crypto.com is a great option due to the additional functionality that Crypto.com can give to investors.
| Fees | Cryptocurrencies Supported | Transaction Types |
| --- | --- | --- |
| Between 0.4%-0.04% depending on volumes, no charges for deposits, but they only accept USD, which could lead to Forex spread charges | 100 cryptocurrencies supported | Buy, sell, send, receive, withdraw, and exchange |
They offer up to 14% interest on deposits to their card, their visa card also gives up to 8% cash bank to users. The other added benefit to the card is it makes it a great way to spend Bitcoin held by Crypto.com, which gives more opportunities to UK Bitcoin investors using the platform.
Crypto.com charges fees between 0.4% to 0.04% depending on 30-day trading volumes, which are competitive for the market. The other benefits of the platform such as interest on deposits and cashback on card spend give ways for investors to recover these costs. The downside to the platform is, similar to eToro, they only accept USD, however, this can be overcome by using platforms like (Transfer)Wise.
Some other advantages to using Crypto.com are they offer a variety of transaction types to help support more complex investors. One negative is that they have quite a complex website that isn't easy to navigate and they only accept USD which could add more costs to UK customers depositing in GBP.
What Is Bitcoin?
At a top-level, Bitcoin is similar to other cryptocurrencies in the sense it is a decentralised open-source blockchain, however, it does not support smart contract functionality, unlike some other cryptocurrencies.
Bitcoin is the largest cryptocurrency in the cryptocurrency market by value with a current price of around £24,000 per coin, which is nearly 10 times higher than the second-largest cryptocurrency.
Why Buy Bitcoin?
Bitcoin can make a great investment compared to other cryptocurrencies as it's more accepted as a currency, which means it's not only traded between the cryptocurrency market, it can be exchanged for goods and services – including Papa Johns's pizza!
This acceptance helps drive its price and make it more stable than other cryptocurrencies, although it is still considered very volatile compared to other investments.
Another advantage to Bitcoin is its liquidity. Cryptocurrencies that have lower liquidities are harder to exit if the market becomes more volatile, meaning investors could be forced to swallow losses or miss out on gains due to a lack of liquidity.
Bitcoin, however, benefits from being the coin with the most liquidity, meaning it is the most likely cryptocurrency for investors to be able to buy or sell at the right times, helping reduce the risk or maximise the gains available to investors, compared to other cryptocurrencies.
This isn't to say Bitcoin is always liquid and there have been periods of illiquidity in the coin's history, but compared to the rest of the coins available, it tends to be the most liquid.
Bitcoin Price Analysis and Prediction
Bitcoin, like many other cryptocurrencies, saw its price rocket in the first half of 2021, reaching a height of £42,000, but then dropping down to around £24,000 per coin. This being said though, as many other cryptocurrencies dropped during the same period, it's likely this was a market reaction, not a specific action against Bitcoin that caused this.
Whether Bitcoin will go up or down is open to speculation, whilst there's a lot of power in decentralised currency, there's also a downside potential as a result of actions by central banks, regulators and the Chinese government. There's also the issue around how environmentally friendly Bitcoin mining is which could hurt future growth compared to other cryptocurrencies.
Bitcoin could likely recover from its recent dip and from a percentage growth standpoint do very well as part of this recovery, but it is likely that other cryptocurrencies might be stronger in their recovery compared to Bitcoin. With all this said and done though – no one has a crystal ball and anything could happen
Things to Remember Before Buying Bitcoin
Don't put in more than you can afford to lose – remember, Bitcoin like all cryptocurrencies are speculative and you may lose more than you gain, make sure you only trade amounts you'd be willing to lose.
Resist 'fear of missing out' – avoid trading on emotions, FOMO is the Achilles heel of many traders who jump in when it's too high and don't stay the course, meaning they end up losing money as they invested on an emotional level without thinking things through.
Understand tax consequences – make sure you stay on the right side of your taxes, and cryptocurrencies, like everything else in life, are subject to taxes. Make sure you know your tax liabilities and comply with them.
Long vs short-term investment – consider the benefits and drawbacks when looking at trading any cryptocurrency as a long versus short-term investment. It's also worth looking at whether your chosen platform or exchange is better suited to longer versus shorter-term positions.
FAQs
Is Bitcoin legal in the UK?
Yes, buying Bitcoin is perfectly legal in the UK.
Will Bitcoin be overtaken as the most valuable cryptocurrency?
Some experts believe it could, this down to other cryptocurrencies potential beyond a store of value, Ethereum as an example powers NFTs. That being said, the second-largest cryptocurrency Ethereum is only worth about 10% of what Bitcoin is, so it still has a long way to go.
Can you buy less than 1 Bitcoin?
Yes, fractional trading is available with Bitcoin meaning you don't have to buy 1 coin.
Is it too late to buy Bitcoin?
We wouldn't say it's too late to buy Bitcoin as prices are currently in a dip and could recover, especially if new technology to make Bitcoin greener becomes available.