Bitcoin Cash is a decentralised cryptocurrency created from a fork of Bitcoin. Established in 2017, Bitcoin Cash uses the original Bitcoin Cash client, and it increases the size of blocks, enabling it to process more transactions.
BCH spun off as an altcoin of Bitcoin, and they share many similarities like the same consensus mechanism and max supply pegged at 21 million for both. Despite their similarities, Bitcoin Cash differs from Bitcoin due to the absence of Segregated Witnesses.
Buying and trading cryptocurrency like Bitcoin Cash is straightforward. However, there are still some lingering questions that arise when buying Bitcoin Cash.
This article shall address those questions and guide you on the best way to buy Bitcoin Cash in the UK.
How to Buy Bitcoin Cash in the UK Using Our Preferred Trading Platform: eToro
1. Sign up with eToro
Buying cryptocurrency like Bitcoin Cash on eToro is easier than ever. All you need to do is create an account by going to www.etoro.com on your web browser.
Select the JOIN NOW button and fill up the registration form. After completion, verify your email.
2. Account verification
Once you've verified your email, complete your profile information and the KYC. Keep your National Insurance Number for the KYC verification and submit a copy of your passport or driver's licence to verify your identity.
Also, submit a valid proof of address with utility bills like bank statements or internet bills.
3. Deposit fiat currency
After completing your KYC, choose a preferred deposit method to make a fiat deposit. This is essential as you need to fund your account before buying any cryptocurrency on eToro.
Once you've chosen your preferred deposit method, connect your bank or e-wallet and complete the deposit.
4. Navigate to Bitcoin and make a purchase
Proceed to the CRYPTO section of eToro and search for Bitcoin Cash. Input the preferred amount and make your first purchase.
5. Bitcoin Cash is added to your eToro portfolio.
The equivalent value of Bitcoin Cash will reflect in your portfolio after the purchase.
Best Ways to Buy Bitcoin Cash in the UK
eToro – Best for beginners
Binance – Best for experienced traders
Kraken – Best for security
1. eToro
Choice of a crypto exchange platform is essential when buying cryptocurrency. You always want a platform with great functionality, little to no fees, secure and great user interface.
eToro is the perfect exchange that fits the description and even more. It is suitable for buying BCH due to its low fees and wide range of coin listings. Currently, eToro features the top 20 cryptocurrencies by market cap and 42 total listings, which is great for experienced and new traders.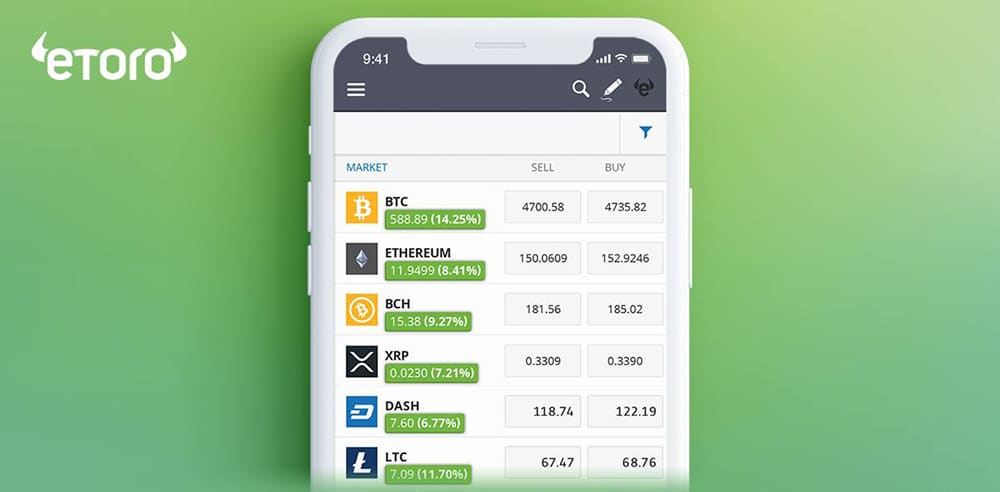 Pros
Cons
Straightforward account registration
Fiat deposit is limited to USD only
Large crypto listings of 42 cryptocurrencies
Does not offer non-crypto investments to US traders
Social trading and copy trading function
High withdrawal and non-trading fees
Low deposit and withdrawal threshold
Offer access to non-crypto investments like ETF, commodities,
stock, and forex trading
Apart from crypto investment, eToro also supports several other investments like ETFs, bonds, commodities, stocks, and many others.
Therefore, you can manage both your crypto and non-crypto investment in one place. This is mainly for traders who want to diversify their investments in one place without needing to create multiple accounts to manage them.
eToro also features a simple-to-use user interface which is even more useful for beginners. It also features advanced trading tools like "social trading" and "copy trading" that support new traders to understand more about crypto trading and investment.
2. Binance
Binance is a great alternative for buying Bitcoin Cash. As the largest and biggest crypto exchange globally, Binance offers several trading pairs at a lower fee.
Apart from this, Binance also offers more than 350 coin listings which are great for flexibility, all at a better price and low fee.
Pros
Cons
Swift and free account funding
Although the trading commission is cheap, other exchange
platforms do not include these fees
Extremely wide range of coin listings, the largest in the
crypto market
Complicated UI mainly designed for experienced users
A wide range of supported transaction types
On top of these, Binance has a high level of liquidity due to its enormously high number of active users. This is important for traders to execute or exit trades quickly as preferred, especially during huge price swings.
Binance also offers the lowest fee and cheapest withdrawal fees in the market. This is especially important for traders looking to keep their investment in a cold or hot wallet or users who constantly withdraw their BCH investment for transactions.
3. Kraken
Kraken features a wide range of crypto listings with more than 90 support cryptocurrencies and over 400 trading pairs.
This is a great option for traders looking to spread their investment over different cryptocurrencies or even use BCH to buy other cryptocurrencies without having to pay unnecessary fees during withdrawals.
| Pros | Cons |
| --- | --- |
| Excellent for all traders of different experience level | Complicated fee structure. However, the fee decreases as trading volume increases |
| Good numbers of coin listings | The absence of a built-in wallet can be an issue for beginner traders |
| Low transaction and trading fee | |
Apart from these, Kraken also offers one of the most competitive fees in the market, which is good to cut unnecessary trading costs. One issue about Kraken is the high fees it charges for the instant trading function. However, this only affects traders using the Instant Trading function.
Kraken also supports GBP fiat deposits which is great news for UK traders. Unlike eToro, which is a USD-only platform, Kraken supports GBP deposits which will eventually cut out additional incurred fees for spread and conversions.
Although this can be mitigated by using third-party payment services like TransferWise, UK users won't have to go through the stress.
What Is Bitcoin Cash?
As mentioned earlier, Bitcoin Cash was forked from Bitcoin in 2017 to aid transaction processing and scalability.
Bitcoin faced issues as its massive adoption in 2009-2017 put strains on its underlying network leading to the introduction of Bitcoin Cash which helped process more transactions in a single block while improving scalability.
Bitcoin Cash was also launched to provide alternative transaction processing methods and address issues with Bitcoin transactions.
Why Buy Bitcoin Cash?
Bitcoin Cash will make a good investment due to its positive impact on trade execution compared to its precursor, Bitcoin. Also, provides a far cheaper and better way of transaction execution which makes it more beneficial and accessible to new crypto investors.
Unlike Bitcoin, Bitcoin Cash has not been widely recognised in recent years. Although it is a good investment, this lack of attention and adoption may drive its price down into a bubble. However, it should be noted that its price reacts to general market conditions.
Unlike Bitcoin, which is considered a commodity and only a store of value that people use to hold and increase their wealth, Bitcoin Cash is a perfect alternative to Bitcoin for trading and transactions, even more than other cryptocurrencies.
Bitcoin Cash Price Analysis and Prediction
BCH has enjoyed an enormous bullish ride since its introduction in 2017. Shortly after its introduction, BCH hit an ATH of £2800 in December 2017, from a £165 yearly low in August 2017.
Launched at £180 per coin in 2017, Bitcoin Cash has been a good investment due to its importance to BTC. However, BCH suffered a catastrophic price collapse almost a year after attaining its ATH. It traded for around £83, recording its ATL in December 2018.
Fortunately, BCH experienced a huge bullish run to £1,100 in May 2021 but crashed to £320 a month later. Despite its bearish outlook and price loss, BCH has been a good investment as it still retails to double its launch price even in a severe dip.
Expert analysts are very much uncertain about the future of BCH. Some analysts speculated that the growth of Bitcoin will send BCH's price high.
However, the prevailing view about its price is that if it can break the bearish momentum and exceed £500, it can rise to over £600 to £1,000 next year. Also, it was speculated that if it continues this price movement, it can rise steadily by 2025, making it a good investment opportunity.
In contrast, many analysts believe BCH can remain in its bearish cycle and further lose value. According to analysts, if it continues the bearish momentum, it may encounter the DEATH CROSS, a prolonged price decline signalled by a price drop below £288. However, this is still speculative as it might not be something that can happen any time soon.
Things to Remember Before Buying Bitcoin Cash
Cut your coat according to your size – Before you start trading crypto, it is essential to know that crypto trading is highly risky and can incur losses more than gains. Therefore, ensure you only trade what you can afford to lose.
Avoid trading on emotions – Trading on emotions is one of the common mistakes many traders make while trading crypto.
Fear of missing out can cause a disastrous loss of investment when trying to jump into a trend from media hypes. Ensure you have a sound trading strategy and risk management. Also, ensure you discipline yourself well to follow your trading plans.
Understand tax consequences – Cryptocurrency, like any other financial asset, is subjected to tax. Ensure you know the tax implications of trading cryptocurrency and abide by them. Ensure you are always tax-compliant.
Long vs. short-term investment – Considering a short or long-term investment is another important decision to make, especially as a newbie. Ensure you assess the pros and cons of both before delving into trading. Also, ensure your choice of exchange suits your trading plan perfectly.
FAQs
Is Bitcoin Cash Legal in the UK?
Yes, buying Bitcoin Cash and other cryptocurrencies is legal in the UK.
Will Bitcoin Cash become the most valuable cryptocurrency?
Cryptocurrency price action is unpredictable. Although anything can happen regarding price action, it is unlikely that BCH will be overtaking Bitcoin as the most valuable cryptocurrency.
Can you buy less than 1 Bitcoin Cash?
Yes, you can buy lower quantities of BCH with Fractional Trading. Fractional trading enables you to buy less than 1 unit of a token or coin.
Is it too late to buy Bitcoin Cash?
As mentioned earlier, price actions are difficult or even impossible to predict. However, BCH and other cryptocurrencies are in a dip and might recover soon. Also, it is not too late to buy BCH, given BCH's functions, importance, and use cases.